From now on it is possible to manage Science accounts under your control in DIY. The overview of Science accounts for which you are the contact can be found in the menu "My accounts".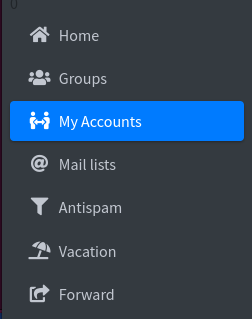 Each of these accounts has a link to a form where you can perform one of the following actions:
Postpone the check date. This date is used to send reminder emails.
Block the account. Blocked accounts cannot be used to login into systems (like mail, login server, gitlab).
Delete the account. If you delete an account, the account will be blocked immediately and will be deleted a month later.
If the check date of a Science account has passed, a reminder email will be sent inviting you to indicate in DIY what to do with the account. In most cases it is therefore no longer necessary to send a reply to this e-mail.